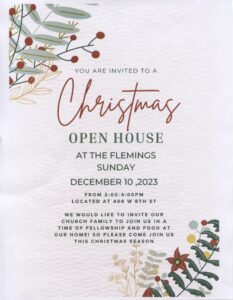 Dear brothers and sisters of The Baptist Church,
As you know, we have been without a paid shepherd/lead elder for over 14 months, and we started the search process 11 months ago. As elders, in our reading of the scriptures, we discerned that it was our responsibility to fill the pulpit in the absence of a full-time pastor. (1 Tim. 3, Titus 1) Filling the pulpit was not only our responsibility, but it has also been our privilege to serve you in this way. We are thankful that you allowed us to become better men, and hopefully better Christians by being forced to dig into the scriptures even deeper than usual.
Our souls were fed as we prepared to feed you from what we gleaned.
Having said that, we are proud to announce that as a church we called Pastor Tim Miller to be our new Pastor and he has graciously accepted. He intends for his family to join our family for their first Sunday on Christmas Eve. Tim is a devoted husband and father to wife Ashton, sons, John and Owen, and daughters Saoirse and Bethan. They intend to immerse themselves into our family, so let us welcome them with open hearts, open arms, and open homes. Please be in prayer for them as we anxiously await their arrival. God willing, they intend to be here the week of December 17, so if you have the ability, they will welcome as many hands as possible to help them unpack. Their family is an answer to months of prayer and searching, let's make them feel they truly are part of our body.
Sincerely,
The Elders
Are you missing something from your kitchen?
Please check the church kitchen to see if any of the items
on the north counter belong to you!
WORSHIP HELPERS (Thank you for your service)
Nursery & 2's & 3's Assignment: Please see your assignments in the Worship Folder for next Sunday.
November Greeters:
Conrad Trost, Barb Kortman, Lyle Koerber, Van Morrissette
AV:
Dec 3: Rick Haden
Dec 10: Taunja Smith
December Offering Counters:
Doug Herman, Peg Johnson
OPPORTUNITIES OF THE WEEK
Sunday, December 3, 2023
– 1st Sunday of Advent
9:00 a.m. Sunday School
10:00 a.m. Fellowship Time
10:30 a.m. Worship Service/Children's Christmas Program
We will not have a nu
rsery during church today.
1:00 p.m. Children – Sunset Home Performance
5:00 p.m. Prayer Time
6:30 p.m. Youth Group
Monday, December 4
6:30 p.m. Elders meeting
Wednesday, December 6, 2023
6:30 a.m. Men's Bible Study
Sunday, December 10, 2023
9:00 a.m. Sunday School
10:00 a.m Fellowship Time
10:30 a.m. Worship Service/ Communion
2:00 p.m. Christmas open house @ the Flemings from 2-4 p.m.
5:00 p.m. Prayer Time
6:30 p.m. Youth Group
Men's Fellowship
All men are welcome to join in a time of fellowship, accountability, and devotions on Wednesday mornings at 6:30 in the first floor TV room.
YOUTH GROUP
Just a reminder that the Junior/Senior High School students meet each Sunday evening at 6:30 pm, in the youth room, for Bible study and games. Invite a friend to join you.
Sunday Prayer Time
Prayer Time: Please join us at 5 p.m. EACH Sunday as we pray, praising God for who He is and thanking Him for all He has done.

https://www.thebaptistchurchofconcordiaks.com/hp_wordpress/wp-content/uploads/2020/03/3222020sermon-insert-1.pdf