Senior Pastor
Our church has called Pastor Jonathan Peppers to become our Senior Pastor and he has accepted the call. Here is some basic information about Jonathan and his family:
My wife, Alaina and I both have had the privilege of being raised around the things of the Lord. We were both brought to a realization of our sin at a young age, and both repented and embraced Christ at those early ages. We met in college and were married in 1996. The Lord has graciously blessed us with three children: Paul (13), Megan (10), and Aeva Grace (3).
I have been in the ministry for about 21 years, and in 2007 the Lord allowed me the privilege of stepping away from a senior pastorate to attend The Master's Seminary, where I received my MDiv.
We enjoy talking about the goodness of the Lord, traveling together, beautiful music, and great food. My passions lie in the areas of preaching and teaching, prayer, being with God's people in relationship and shepherding, growing with godly elders and deacons, and training men. I enjoy studying the Bible and church history, and I have a particular passion for helping God's people study the Bible in the land of the Bible.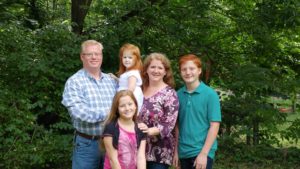 Elders
Doug Herman
Eric Johnson
Brian Kemling
Van Morrissette
Quentin Smith
Jonathan Peppers
Administrative Assistant
Melissa Loeffler
Office Hours: Tuesday-Friday 8 a.m. - 4 p.m.
Ministry Teams
Children & Youth - Lori Kemling
Donna Trost
Discipleship - Roger Koester
Lyle Koerber
Arlinda Worthen
Fellowship & Caring - Chris Smith
Sara Fleming
Finance & Property - Aden Joy
Justin Snyder
Missions & Outreach - Brian Longfellow
Traci Snyder
Prayer & Worship - Justin Fleming
Greg Girard
Joann Freeborn
Gwen Miller
Sunday School Teachers
Nursery:
Jayne Morrissette & Kathy Herman
Beginners (ages 2-3):
Lori Kemling & Donna Trost
Pre-Kindergarten - 2nd Grade
:
Mishelle Longfellow & Liv Longfellow
2nd - 5th
Steve Nelson & Joann Freeborn
7th - 12th Grade:
Justin Snyder & Justin Fleming
Adult Class:
Aden Joy
Doug Herman
Quentin Smith, lead teacher
Van Morrissette
Youth Leaders
Brian Kemling
Bryan Longfellow
Youth Assistants:
Andrew Allen, Josie Allen, Garet Koester, and Hannah Koester