How Do I Meet People?
Our church is not a place for spectators. It is a place for team members within the body of Christ. Whether you are a five-year old child, a ninety-five year old grandmother, a busy mom, or a businessman with big responsibilities, we want you to be a part of our church family where we learn about God and faithfully worship Him. Here is how you can learn, serve, and grow in Christ at this church.
Sunday School for Youth

Each Sunday morning, children, ages 2 years through 12th grade get to participate in their own classes. Bible lessons are taught in such a way that every child gets to participate and learn.
Adult Sunday School
Each Sunday morning, adults gather together to study God's Word. The youth of the church are learning the same lesson as the adults in order to encourage communication between adults and children of the church and a broader understanding of His Word. Nursery is provided for infants and children under age 2.
Youth Group
The Youth meet at the church on Sunday nights at 6:30pm. Students grades 7th through 12th are welcome and encouraged to attend! During Youth Group, the youth are engaged in activities such as games, singing praise, and
studying God's word.
Men's Bible Study Group
Accountability among men is an act of integrity. Accountability is designed to protect, encourage, and develop men of all ages. The Men's Bible Study Group meets every Thursday morning at 6:30 a.m. This Men's group is known as MOFIA - Men of Faith In Action.
Women's Groups
Women's groups give the ladies in our church family special times of interaction - times of Bible study and prayer. These groups provide a refreshing discipleship opportunity for the women in the church.
There is a Women's Bible study that meets on Wednesday mornings at 9:30am. On December 21 they started the book of Acts. Please come at any time during the year if you are interested.
Women's evening Bible Study will begin September 6th. Whether you are a seasoned Bible reader or struggle to keep up with studying Scripture, Open Your Bible, will leave you with a greater appreciation for the Word of God, a
deeper understanding of its authority, and a stronger desire to know the Bible inside and out. Using
Scripture itself, Open Your Bible, (written be Raechel Myers & Amanda Bible Williams, the women behind the online Bible study She Reads Truth) will quench a thirst you might not even know you have - one that can only be satisfied by God's Word. All Women are invited starting Tuesday, Sept. 6, 2016, at 7:00pm at The Baptist Church. Please RSVP by August 31st by
calling the church or Peg Johnson at 243-7887.
Grow Groups
Often, small groups of people are better able to interact and learn about a topic than larger groups are. For that reason, our church has small Bible studies held in member homes on a weekly basis. The size of the group is anywhere from six to twelve people. At a time designated by your group leader you can participate in the small group study we call "Grow Groups".
Awana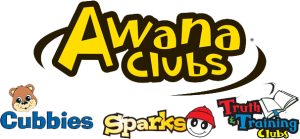 Kids lives are forever transformed. Volunteers grow as leaders. Families become stronger and churches build community through active involvement in Awana. Our world needs the hope that only Christ gives. God is using Awana to raise up kids, parents and leaders devoted to knowing Scripture, loving Him and reaching others with the gospel. Our program is on Wednesday nights from 6-7:30 p.m. for children 4 years old through 6th Grade. Check out our FB page:
Concordia Awana